GoodBuzz Solutions journeyed up to the Petroplex (also known as Midland, Texas) earlier in September to inspire and consult with women in the energy industry about marketing their careers.
Invited by the Women's Energy Network and sponsored by Frost Bank, I was honored to be their featured speaker at The Petroleum Club September 13th. Over the next few days, I had the opportunity to meet individually with energy women for 1-on-1 consults, with some occurring via video conference later once back in Austin.
Founded in 1994, Women's Energy Network (WEN) is an international organization of 4,000-plus professional women who work across the energy value chain. Their mission is to provide networking opportunities and foster career and leadership development of women who work in the energy industries. They do this through through luncheons, conferences, community initiatives, socials, and mentoring programs.
Women's Energy Network's Director of Program & Technical Speakers Laci Stretcher (who works as a landman for Apache Corporation) said:
"Lauren Day from GoodBuzz Solutions was a fantastic speaker for the Women's Energy Network Permian Basin networking luncheon.  Our organization covers a broad variety of disciplines and experience in the industry, and Lauren's advice on marketing your career was well received.  Members appreciated Lauren's positive energy and helpful tips ​on improving both overall image and specific marketing strategies.  Our only regret was that we did not book Lauren for a longer session."
The 30-minute presentation included discussion about PEST & SWOT analysis, strategy formation about "competitors," target personas identification, how to craft SMART goals, message development, best practices in six core areas to market ourselves and careers, advancement ideas while working in a male dominated field, and more. The presentation closed with a 10-minute Q&A session.
One attendee Jordan Ruiz, marketing director for engineering and construction firm PARPAL, had this to share:
"Though there were many great messages in the presentation at the WEN luncheon, there was one that truly stood out. No matter the position or industry you serve, it is important to be transparent and look for ways to help your clients and customers, and the same goes for the peers around you. There will always be challenges when pursuing your professional path, but the only way to build good relationships and advance yourself is to connect with those around you. The "self branding" lesson was an eye opener of how we may overlook the smaller details and in turn, close doors to new opportunities and relationships. Taking the time to understand that not only am I marketing my company, but I am marketing myself has changed my mentality and initiatives in my current position so much that I have decided to take my own venture to the next level."
Over the following few days, GoodBuzz hosted personal 1-on-1 marketing consults while in Midland and a few video conference calls slots once back in Austin.
Downhole Chemical Solutions' Technical Sales Manager Bailey Morgan said:
"Lauren not only met with me to discuss my job and career path, but took the time to get to know me and help me see my strengths. She helped me find the words I was missing to describe my job functions and brag about my successes. I left the personal consult meeting feeling stronger and more empowered to speak about what I do for my company with more confidence than ever. I can't wait to work more with her and learn even more from her."
It was truly a delight to meet and interact with women individually through the consults. Working with them to pinpoint their unique selling proposition while being a safe place to share the joys and challenges of work was truly rewarding.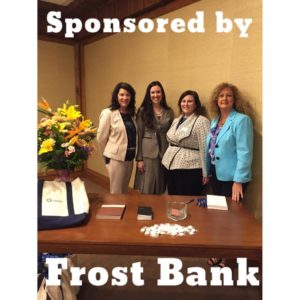 Special thanks to Frost Bank for sponsoring the luncheon and making our visit up to Midland possible. If you are in need of Business or Personal Trust services, please give them a look.
Frost Bank Trust Officer Sarah Vines said:
"We thank Lauren for coming out to the Permian Basin and speaking to us!  We really appreciate her time and were happy to sponsor her. As a new Midlander just starting out here, I need to learn about marketing myself – not only my company, but my career. She's a wonderful speaker and I really learned a lot. Can't wait for my 1-on-1 consult!"
Would you like to bring GoodBuzz out to your group, association, or company to speak to your members about marketing their careers? We'd be happy to discuss more about what GoodBuzz offers and charges. Email us to start the conversation. [email protected]
Among Austin marketing firms, GoodBuzz Solutions harnesses the best of marketing, communications, and events to empower the brands of entrepreneurs, public figures, and organizational leaders to become more visible so they can achieve their goals and be the best. Put your marketing expertise to the test by taking the free GoodBuzz Online Marketing Assessment here. The quiz will evaluate you in seven core areas with 31 questions. Your immediate marketing score will identify your strengths and show you where you can polish your strategy – all for free!