Photo caption: Sampling of 2020 Reagan Gala distinguished guests left to right — U.S. Senator John Cornyn, Texas Senator Donna Campbell, Congressman Dan Crenshaw, Texas Senator Dawn Buckingham, Congressman Chip Roy, Chief Justice Jeff Rose of the Texas Court of Appeals
It's been a busy half year helping clients navigate running their brands during this coronavirus season that has upset business as we know it. GoodBuzz has helped brands build strategic plans to think outside the box in re-opening their stores and causes as well as meeting new demands their target markets desire in this changing economy. It's been mighty fun, but certainly challenging.
On August 21 we were thrilled with the final outcome of many months of planning the Travis County Republican Party's annual Ronald Reagan Gala — one of about a dozen and half events we've planned since COVID shut things down (watch for a blog post about more events planned). I with their team were able to round up 51 silent auction items, 24 sponsors, 24 elected officials and candidates with 7 speaking on stage to 370 guests. It was the largest attended gala (at least since 2014) with the most money raised — and truly, a twinkling, magical night!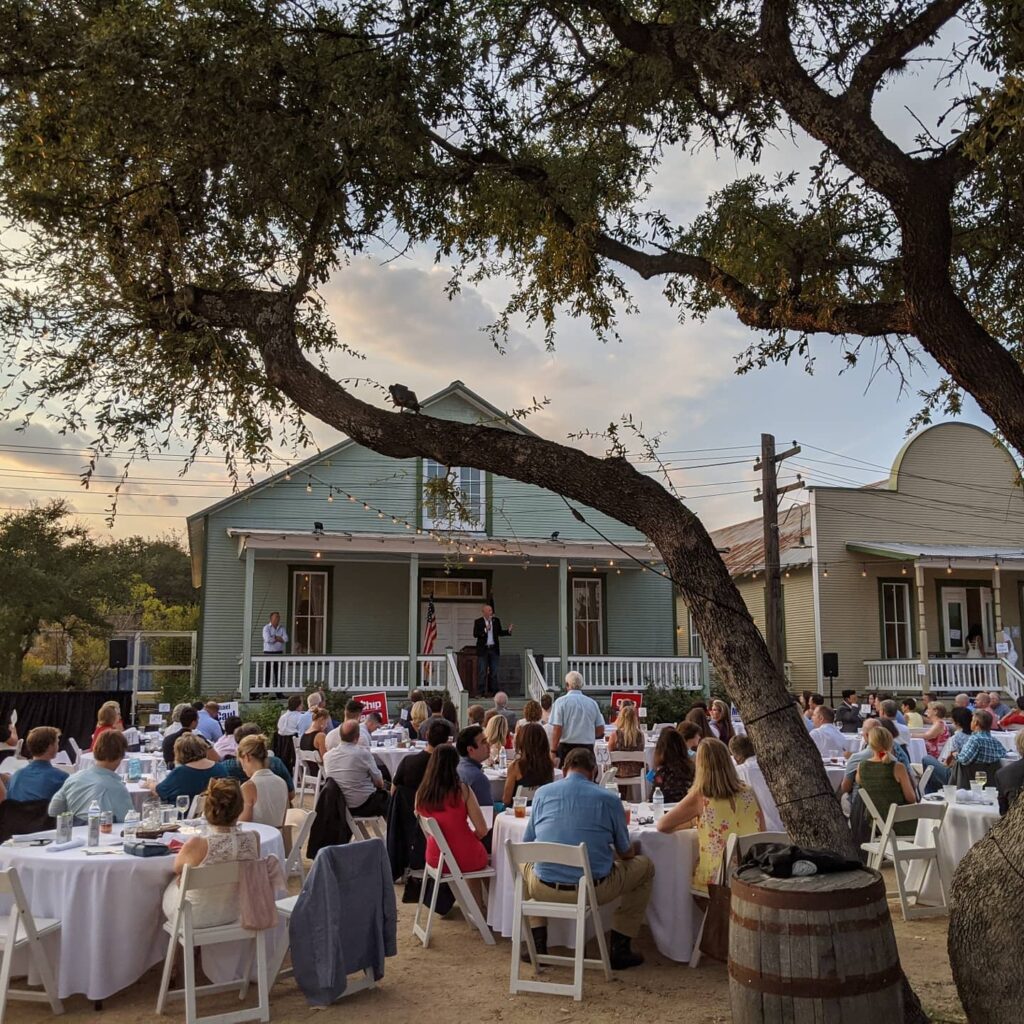 "While strongly encouraging masks and requiring social distancing, we safely gathered more than 350+ guests for an outdoor fundraising dinner in SW Travis County," Travis County GOP Chairman Matt Mackowiak said. "These events are difficult even in normal circumstances. This year, we had to move venues, change dates, and adapt due to the coronavirus. Travis GOP relies on the dedication and professionalism of Lauren Day to manage these events and she did a masterful job once again," Mackowiak said. We have worked with Matt Mackowiak since 2014 to pull off these annual Reagan Galas.
This year was unique.
It was held during a worldwide pandemic.
We hosted the gala outside (read: it was Texas HOT!).
We requested guests to wear masks anytime not eating nor drinking.
This one gala was planned four times: we changed the date; we changed the venue; we almost changed the date again the week of due to national political pressure and then because of speaker schedules. Things were constantly changing and we rolled with the punches. In the end, the event happened much to the surprise of many!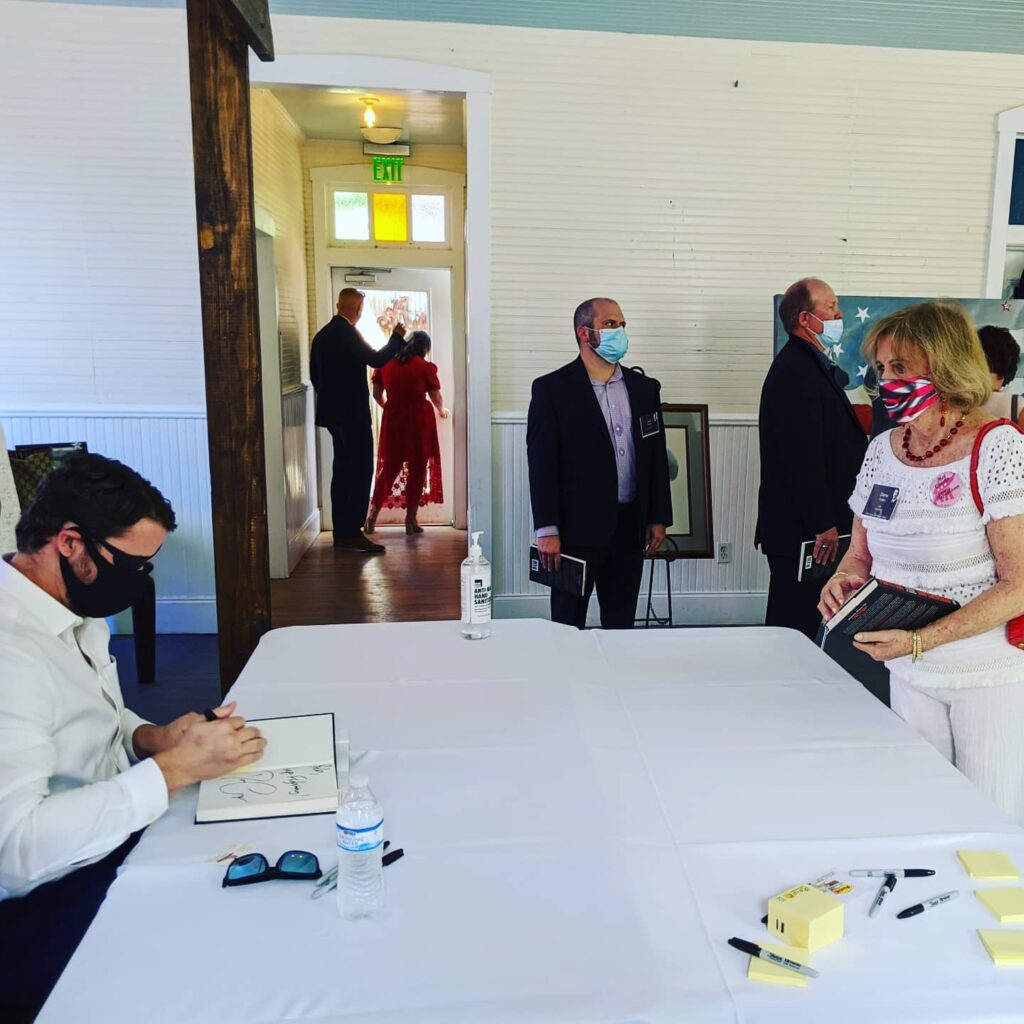 Now, we got some "buzz" after the event from a disgruntled social media spy warrior who blabbed to media across the state about our event days later when scrolling Twitter, but after the "investigations" no lawsuits occurred nor were any financial penalties levied on the client nor the venue. All health guidelines as well as local and state laws followed. We were absolutely committed to protecting our guests and honored speakers (like Congressman Dan Crenshaw featured above as he signed books for guests) for an incredibly memorable evening together.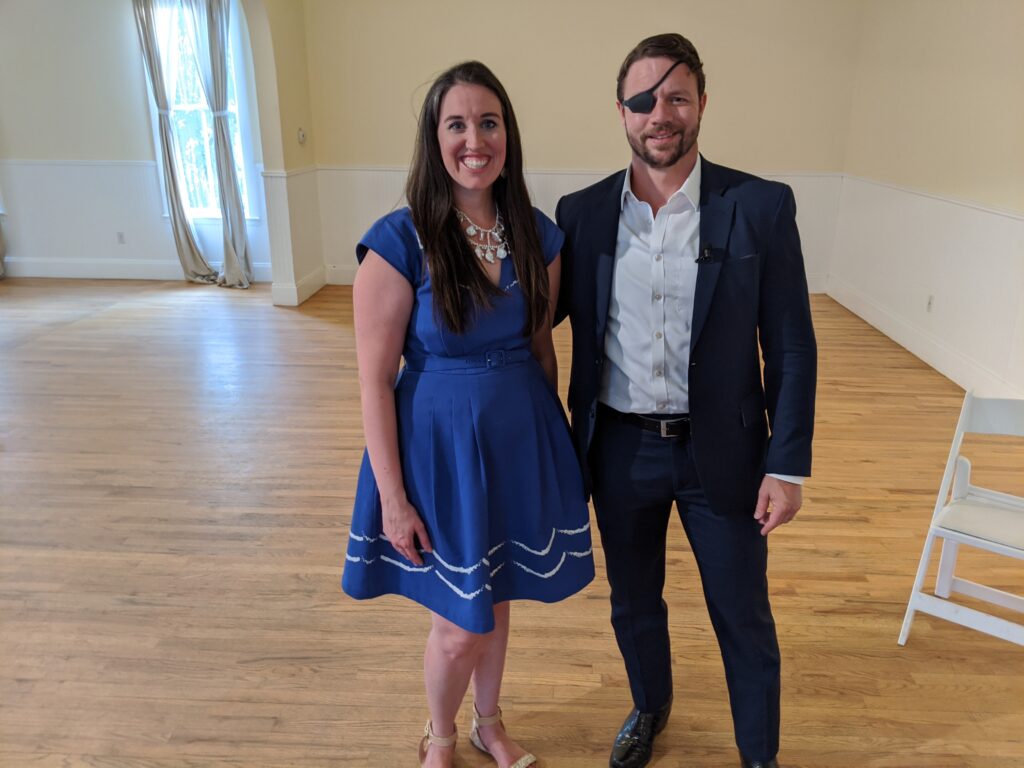 We had a great group of Republicans present, and a nice selection of federal, statewide, and local elected officials, party officials, and candidates:
Congressman Dan Crenshaw – Headline Speaker and Recipient of Reagan Courage Award
Congressman Michael McCaul – Speaker and Recipient of Lifetime Achievement Award
Texas Senator Dawn Buckingham – Speaker and Recipient of Rising Star Award
U.S. Senator John Cornyn
Congressman Chip Roy
Texas Senator Donna Campbell
Texas Supreme Court Justice John Devine
Texas Supreme Court Justice Jimmy Blacklock
Texas Court of Criminal Appeals Judge Kevin Patrick Yeary
Texas Court of Criminal Appeals Judge David Newell
Texas Court of Criminal Appeals Judge Bert Richardson
State Board of Education Member Tom Maynard
Texas Third Court of Appeals Chief Justice Jeff Rose
Texas Third Court of Appeals Justice Melissa Goodwin
Burnet County Judge James Oakley
Former Congressman Pete Sessions, candidate for Congress
Jim Wright, candidate for Texas Railroad Commissioner
Paul Workman, former Texas Representative
Former Trump White House Administration Steve Munisteri, also former Chairman of the Texas Republican Party
James Dickey, former Chairman of the Texas Republican Party
Bill Strieber, candidate for Texas House
Justin Berry, candidate for Texas House
Michael Lovins, candidate for Travis County Judge
Mackenzie Kelly, candidate for Austin City Council
We will be doing another article about things we've learned in doing events during covid as we've managed about 1.5 dozen since March. Stay tuned for a follow-up piece.
Test your brand's marketing by taking GoodBuzz's free 31-question quiz with immediate 0 – 100 score here: https://goodbuzzsolutions.com/free-marketing-assessment/
We'd be delighted to review it with you and discuss how we might partner together so you become more visible. Contact us here.
Among Austin marketing firms, GoodBuzz Solutions harnesses the best of marketing, communications, and events to empower the brands of entrepreneurs, public figures, and organizational leaders to become more visible so they can achieve their goals and be the best.