With precious, limited resources of time and funds it's important to develop an effective marketing strategy for nonprofits. But where do you start?
I was invited by the Leadership Institute to speak at the Coalition to End Sexual Exploitation Summit in Houston yesterday about marketing strategy for nonprofits with attendees from across the country and some internationally.
My presentation gave them a shortened version of what GoodBuzz offers clients to consult and build out a full Strategic Communications Plan, and I'd like to share some of that with you.
We've all thought: "I know I need to get some publicity. . . so I'm just going to try X."
I've heard people say "X" is that we ought to create a social media platform page, or begin a blog, or make a radio commercial. Folks often know they need to try something because they have heard others say it is a good idea.
But, is this the best use of donor dollars? Could there be something more effective than X? Or perhaps rolling out "X" later after you've thought through a few other things first would make the marketing campaign much more successful.
Before doing, there's thinking.
The thinking is where marketing strategy comes in and how it can truly make your nonprofit organization thrive. Follow these seven steps and you'll be better prepared to execute a marketing strategy.
1. Assess the Situation
There are many things to consider here, but one simple step is to conduct a full SWOT analysis on your organization. To get a template and learn more, read this blog article here.
2. Discover the "Competition"
Think through 5-10 organizations that are in the same space doing similar work as you. Pick a few that are in your city or state and then a few larger national organizations.
After, conduct a full SWOT Analysis on them too. Doing this exercise will help you see what they are doing well at and what you might want to implement from them. It also makes you more aware of what they are lacking and also what threatens their organization. Perhaps your organization's strengths are where they are weak. If so, this presents an opportunity for collaboration and partnership to advance the cause!
3. Define your personas
Who is your core audience? Who do you regularly communicate with?
Identify two to four personas and create a one-page document on each detailing out the following topics below.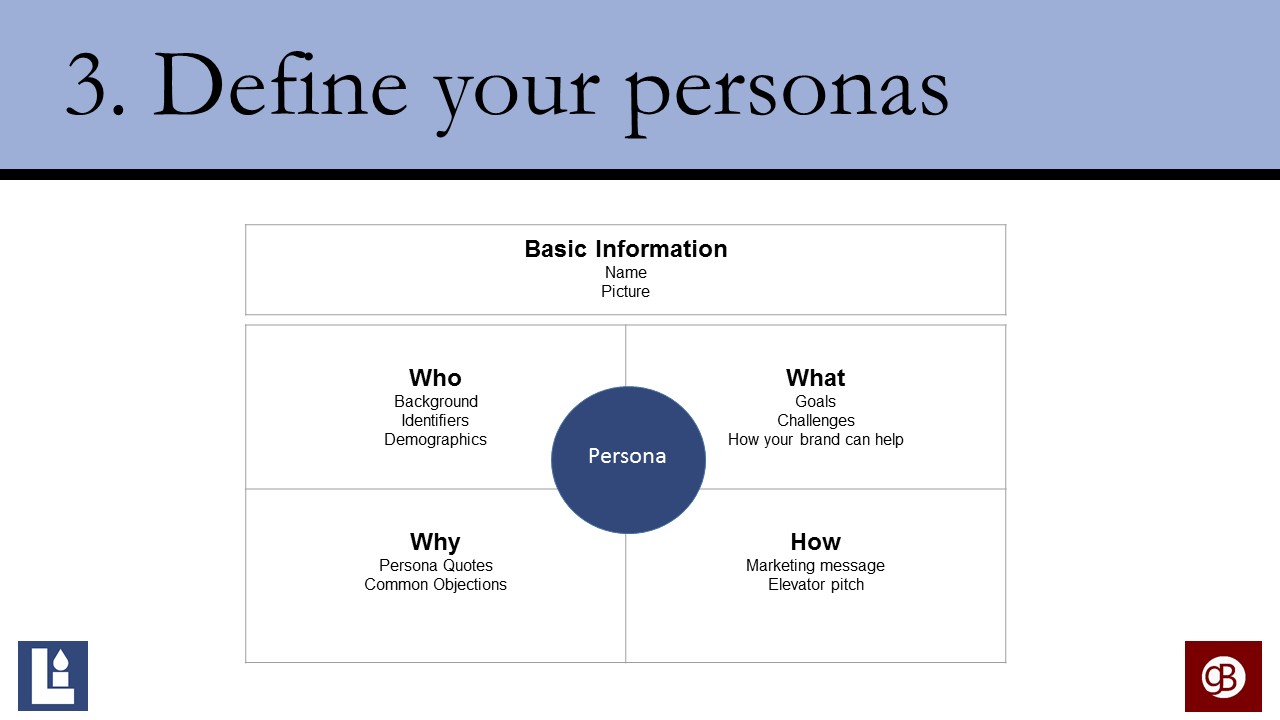 Most nonprofit organizations make a priority to communicate with their Board/staff, volunteers, donors, clients/members, and perhaps partnering organizations or the media & general public.
If you choose donors as your first persona, you'll want to create a fictitious name like "Donor Dave" if your donors skew male. If female, you'll want to choose "Donor Donna" or something like that and go forward with completing the sections above that address the who, what, why, and how for each persona.
It's hard to set goals and create effective messaging if you haven't pinpointed your audience.
4. Fine-tune your mission
Most organizations have a mission state and reevaluate it each year.
Good missions are short, specific, think big and tell why you do what you do, simple & avoid jargon, and finally inspire and cast a vision for the future.
If you have yet to write a mission or want to fine-tune yours, consider these questions in your preparation:
What do we do?

Why did I start this organization/want to work here?

What do I want this organization's legacy to be?

How do I want to help people?

What value does our organization bring that's unique from others?


5. Establish SMART goals
Often in nonprofit organizations I hear wishful thinking disguised as goals. For example, "we need to counsel more women" is wishful thinking, but "The counseling team will serve 42 clients by November 1 through two 1-hr sessions" is a SMART goal.
In order to have clear SMART goals make sure the follow these guidelines:
Specific: Indicate who is doing the action, what is happening, when it is happening, why it is happening, and how it is happening.
Measurable: State the metrics that you'll use to determine whether you've met your objectives. It should be a numeric or descriptive quality that defines quality, quantity, cost, etc.
Attainable: Is this goal achievable and within someone's capabilities?
Relevant: Does the goal align with the broader goals of the organization or department?
Time-sensitive: Include the date by which you'll achieve the objectives, or the frequency with which you'll carry out the activity.
6. Hone your storytelling message
There is a lot that goes into working up an effective storytelling message and it could probably be an entire blog article or two, but the basics are that you want to share more than just the technical things you do. You want to inspire your personas to catch your vision and sign on board.
To do that, you'll need to detail out the following for each service/program you offer:
It's not about having a unique service; it's about making your service stand out — even in a market filled with similar services/causes.
What makes you different and earns you a special place in the minds of your personas?
Are you more convenient?

Most effective per donor dollar?

Offer the best care/service?
Pinpoint your Unique Selling Proposition (also know as competitive advantage) and share compelling success stories to offer prospective personas a solution to their problem. Help them become the hero!
7. Pinpoint Promotional Strategies & Tactics
Ah, ha! We are finally at "X" — where most people tend to start. Now, that we've thought through our strategy, we're ready to start doing. But first, what specific strategies and tactics will help us meet our SMART goals and best message to our personas?
Usually, most strategies fall within one of these six areas: website, social media, design & marketing collateral, events & external relations, email marketing, media relations & advertising.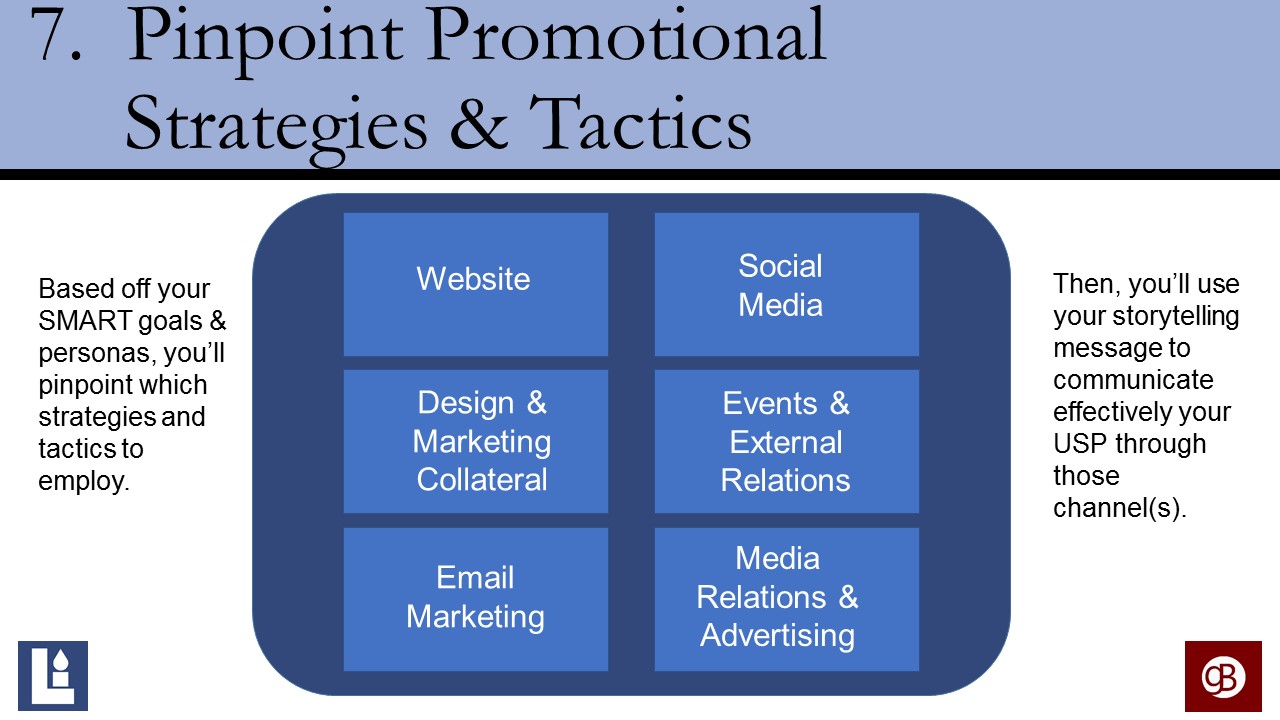 In the full Strategic Communication Plan should you decide to hire GoodBuzz, we'll pinpoint specific and customized recommendations on how to roll this out and give you a step-by-step plan on what would be most effective for your organization.
I offered attendees at the close of my marketing strategy presentation yesterday a free 20-minute marketing consultation today or tomorrow during the conference, and before I could sit down from speaking, all the slots were booked!
Today I chatted with nonprofit owners here in Houston, in Georgia, Utah, Australia, and Puerto Rico.  We discussed their marketing score on the GoodBuzz Online Marketing Assessment and how they might increase their visibility among their core audience to meet and exceed their organizational goals.

I've been so encouraged in talking with these organizational entrepreneurs about the work they are doing to raise awareness of the effects of pornography and the link it has to sex trafficking, as well as the services they offer for recovery to those enslaved by child abuse, porn, prostitution, and sex slavery both as victims and as those demanding these services. These nonprofits have such important work to do and I can't wait to talk with a whole new slate of nonprofit owners tomorrow!
Among Austin marketing firms, GoodBuzz Solutions harnesses the best of marketing, communications, and events to empower the brands of entrepreneurs, public figures, and organizational leaders to become more visible so they can achieve their goals and be the best. Put your marketing expertise to the test by taking the free GoodBuzz Online Marketing Assessment here. The quiz will evaluate you in seven core areas with 31 questions. Your immediate marketing score will identify your strengths and show you where you can polish your strategy – all for free!